Happy Monday everyone!!
Well we have had a busy morning this lovely Monday. Although my daughter woke with what I believe will be a full blown out cold, (sniffle sniffle sneeze sneeze), she was so excited to go dig in the dirt and plant out vegetables and herbs. After a few errands, we came home and got to work. She was so excited to get her dirt on! She dug her little holes and filled pots and watered her plants. We successfully planted four tomato plants, two cilantro plants, one basil plant, two zucchini plants, and two squash plants. We turned the ground and are ready to plant more. But her "happy" mood soon faded and so did her coughing and sniffles and we came in for lunch and a nap. She was so good and had a great time planting. What I love the best is we gave her a little squirt bottle that she goes around and "waters" her plants with. It was a great morning.
So as you know I posted that I was going to read "The Weird Sisters", by Eleanor Brown. I can tell you that I finished it. It was a decent book. It covered breast cancer, pregnancy, stealing, love, relationships, sisterhood, and finding individual ways. It was a good read and I would recommend it. Although for some reason I thought the author started too many "story" lines and then just summed them up in the end. It was a little frustrating to me. But again, I liked the book. I don't want to say too too much for fear that I will spoil it for others.
Now my next book, and i doubt that i will finish as quickly as this last book will be "Memoirs of Cleopatra" by Margaret George. It gets excellent ratings and I am so excited to start it. So look for a review in a few weeks or so.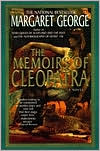 So I am off to finish some things for the business. I am sponsoring a Mother's Day brunch for the Pleasanton Motherhood Club in hopes of spreading the word about the business and get some cash flow in. And I am anxious to finish up the blanket for my niece and start on a new project for etsy. So off I go. Talk to everyone soon.
My favorite comment from my daughter... "mommy where we going??" my reply - "we are going somewhere." her reply "mommy we go crazy??? Yay!!!!" Oops apparantly I tell her I'm going crazy too often. :)